Installing artificial turf in your house can be a difficult decision if you're someone who is fond of having a pet dog.
Most mainstream artificial turfs tend to not be very friendly for pet use.
Many pet owners in the past have had to worry about both their dogs being unable to adapt to artificial turf as well as their precious turf's ability to withstand damage from their pets.
The solution to this seeming conundrum is K9 Grass, which is an artificial turf designed especially for dog use.
In this K9 Grass review we discuss its superior qualities compared to regular synthetic turf and natural grass for dogs.
What is K9 Grass?
K9 Grass is a specially designed artificial turf that has been prepared for use in high dog-traffic areas.
Unlike regular artificial turf, K9 Grass is specifically engineered so that:
Your dogs are able to use it without feeling discomfort from the texture of the material
The turf suffering damage caused by dogs
K9 Grass achieves this by being a premium product composed of high-quality materials, and it is optimized for drainage by removing unnecessary infill materials such as sand or rubber.
The infill material found in most typical artificial turfs hinders drainage functions.
And materials such as rubber are often bitten and pulled-out by dogs due to their attractive appearance and texture.
K9 Grass Cost
Since it is a premium product that has been designed for specific uses, the cost of K9 Grass is around $6-8 per square foot.
K9 Grass is relatively expensive in comparison to other varieties of synthetic grass.
The reason for this is entirely attributed to the fact that K9 Grass is specifically engineered for use by your dogs which requires significantly more effort than other varieties of artificial turf.
K9 grass has superior drainage, anti-odor, and anti-micro bacterial properties which are designed to eliminate issues related to pet waste and hygiene.
Due to these additions, which are lacking in normal artificial turf, the cost of K9 Grass is comparatively higher than non-pet friendly varieties of artificial turf.
Cost of K9 Grass Installation
The installation cost of K9 Grass is dependent on a number of factors, but on average it can be expected that the typical installation cost of K9 Grass is around $5 to $9 per square foot.
Artificial pet-friendly turf such as K9 Grass has a typically higher installation cost than non-pet-friendly turf.
Since it requires additional components such as plastic boards and stainless-steel staples that the regular synthetic turf does not.
K9 Grass can be installed either outdoors and indoors, and it can be obtained in two different varieties: K9 Grass Classic and  K9 Graass Lite.
The difference between the two is that the former is heavier than the latter
K9 Grass Warranty
This will depend on the vendor you choose to buy K9 Grass.
We've seen K9 Grass being offered with a 15-year warranty, so you can rest assured this premium dog grass will last you a long time!
K9 Grass Reviews
Let's see how K9 Grass actually measures up in some of the most important aspects of any dog friendly turf.
Durability
K9 Grass is a highly durable product that's been designed to withstand all the pressures of frequent dog and pet use.
As such, K9 Grass will not easily get damaged by use from either you or your dogs.
Its high-quality material will guarantee that your artificial turf will last for a long time without suffering from the same depreciation that most normal artificial turfs suffer from.
K9 Grass additionally ensures that your artificial turf maintains high durability by providing a customized installation solution.
So, you can be quite sure that a K9 Grass turf will last you a very long period of time, and it will not be easily damaged from heavy use.
Aesthetics and Feel
K9 Grass is composed of a high-quality material that is intended to mimic the actual texture and feel of real grass as much as possible.
A sheet of K9 Grass has a very familiar and soft texture that is very comfortable to touch.
K9 Grass is specially engineered to mimic the texture of natural grass so that your pets find the touch and feel of your turf to be extremely comfortable to touch.
With respect to aesthetics, K9 Grass offers a premium looking turf field that has a high degree of textual and color consistency.
A small sheet of K9 Grass will offer you a very rich green appearance that will mimic the actual form and shape of natural grass very beautifully.
You can be sure, therefore, that your K9 Grass turf will look and feel nearly like a natural field of grass itself without you having to endure all of the problems associated with natural grass.
Is K9 Grass Safe for Dogs?
K9 Grass is specially designed for use by dogs, so you can be completely sure that your pets won't face any kind of health issue.
K9 Grass is composed of a safe, guaranteed lead-free, high-quality material that is entirely safe for contact with dogs.
K9 Grass has additional safety features including its lack of infill materials which dogs often chew and bite due to their appearance and texture.
K9 Grass is also designed to be especially hygienic through its anti-micro bacterial design which significantly reduces the possibility of your dogs developing a bacterial infection through the use of the turf.
Overall, you can be extremely confident that a K9 Grass is an extremely safe and hygienic option for anyone who requires a high-quality turf for a high dog-traffic area in their house.
Drainage Performance
One of the greatest issues that people have had in the past with respect to artificial turfs has been with respect to drainage performance. On more conventional artificial turfs, dog urine tends to not drain very effectively.
K9 Grass assists in bypassing this issue altogether through its extremely well-designed surface and engineering emphasis on the importance of proper drainage.
K9 Grass is the only product currently available in the artificial turf market that actually provides edge to edge drainage.
Any dog urine on K9 Grass will drain rapidly and extremely effectively.
The lack of infill additionally eases quicker drainage since the infill in traditional artificial turf typically prevents effective drainage.
This also contributes to the active accumulation of waste including debris such as feces, hair, and other organic particles.
Dog Odor Protection and Anti-Microbial Tech
The presence of dog urine and feces on your artificial turf naturally presents a grave hygienic issue.
In a normal artificial turf, it can be a very difficult matter to mitigate the problem of odor.
This effect is further compounded through the presence of numerous bacterial enzymes that contribute to the breaking down of organic materials which not only prevent the release of more odor but also discourage your pets from marking their territory on your artificial turf.
K9 Grass assists you in avoiding this issue in its entirety through the presence of highly effective odor eliminators.
To further facilitate the hygiene standards of K9 Grass, an anti-microbial technology has been incorporated within the blades of grass so that you don't have to be concerned with the possibility of your pets suffering from bacterial infections on account of your artificial turf.
Ease of Cleaning of Dog Waste
The makers of K9 Grass understand fully that cleaning up after your pets can be a very unpleasant experience for most individuals.
As such, the company has made great efforts to make the process of cleaning up after your dogs as easy and free of unpleasantness as possible.
They have achieved this primarily through their product's extremely effective drainage system which prevents urine from accumulating.
K9 Grass's lack of infill, furthermore, ensures that it is not possible for your pet's waste products (urine and feces) to accumulate over the surface of your turf.
And lastly the presence of odor eliminators and anti-micro bacterial elements prevents unnecessary exposure to foul odors and smells.
Pet Turf Alternatives to K9 Grass
In addition to K9Grass, there are a number of alternative pet-friendly artificial turfs that you can have a look at.
The following section covers four such alternatives.
COCOBOO Artificial Grass Rug
COCOBOO is a high quality roll-able artificial turf that's been designed to withstand high temperatures and different weather conditions.
Features
COCOBOO has an excellent drainage base to prevent water or spills from accumulating on its surface.
The addition of high-quality glue guarantees that the material's stitching will not break off easily.
COCOBOO's artificial grass rug has also been designed to mimic the exact texture of real grass so that neither you nor your pet even feels that it's an artificial material.
This product has been designed particularly for use in outdoor areas which is possible due to its durable build and high-quality materials.
COCOBOO Pros
COCOBOO's Artificial Grass Rug is extremely simple to install as it only needs to be rolled onto the desired location and spread.
If you require more customizable sizes, each grass roll can be easily cut with a scissor to produce a rug of the exact proportions that you require for your individual needs.
The highly durable material from which it is composed ensures that the rug will not be easily damaged due to exposure to heat or different weather circumstances.
This rug is extremely ideal for use in an outside environment.
COCOBOO's Artificial Grass Rug has also been designed with comfort in mind, so it has an extremely soft texture.
SmartLawn Professional Realistic Artificial Grass
SmartLawn Professional Realistic artificial grass is very easy to install for maximizing aesthetic value of any indoor or outdoor place while not compromising on practical functions.
Features
SmartLawn Professional Realistic Artificial Grass has great drainage in the form of small holes installed in the base of the rug into which all liquids can drain through without accumulating.
It has been designed for use in a number of different settings including both indoor and outdoor purposes.
As a result it can be used for either outside patio coverings or as an indoor rug as well.
This makes it an extremely flexible product that can be used in a number of different ways depending on your individual needs.
SmartLawn Pros
SmartLawn's Professional Realistic Artificial Grass can be used both indoors as well as outdoors.
Its lush and soft appearance and texture make it extremely suitable for use as an aesthetic enhancer for both indoor and outdoor purposes.
This product also has very precisely cut grass blades that have been manicured to have a length no greater than 1.25''. This provides a very warm and consistent appearance which is often not achieved through artificial grass.
The presence of in-built drain holes ensures that the rug will not suffer from pooling issues.
This makes SmartLawn's Professional Realistic Artificial Grass a very easy product to clean and maintain.
Goasis Lawn Artificial Grass
Goasis Lawn artificial grass has a high-density base of artificial grass that's composed of a highly durable synthetic material which ensures the products' durability and provides an extremely lush and warm appearance.
Features
Goasis artificial grass is an eco-friendly product that is suitable for use in outdoor settings such as a backyard or a front lawn.
Its environmentally friendly nature also ensures that you won't contribute to global warming or the release of greenhouse gases by purchasing it.
Goasis Lawn Artificial Grass Pros
Goasis Lawn Artificial Grass is a very high-quality option that has been designed for outdoor use, and it is composed entirely of eco-friendly material.
The presence of drainage holes also ensures that it is easy to clean and will not suffer from liquid pooling or accumulating on its surface.
Goasis Lawn Artificial Grass is also very simple and easy to install, requiring only that the intended area of installation be dug and the carpet rolled on top of it.
Infill material is also optional with this product while it may be necessary for any other artificial grass.
Fas Home Artificial Grass
Fas's Home Artificial Grass can be used both indoors and outdoors since it is a very water-resistant artificial turf that's been designed to be used for use by both pets and children.
Features
With a high-density grass exterior and great drainage, it can be a great option for most homeowners.
Fas's Home Artificial Grass is also a very low-maintenance option that does not require extensive care, so it is a very good option for people who don't want to have to invest too much time and effort in cleaning their artificial turfs.
Benefits
Fas's Home Artificial Grass is an environmentally friendly product with a relatively high degree of water-resistance and great drainage facilities to ensure its hygiene.
Individual grass blades on this product have been designed to provide an extremely natural appearance with a soft color and comfortable texture.
It is a very low maintenance product that does not require extensive cleaning to maintain its appearance.
It can also be used both indoors and outdoors which makes the Fas Home Artificial Grass a very versatile product that can be utilized in different ways depending on your individual tastes.
Why Is K9 Grass Better than Natural Grass?
Even if you're quite impressed with K9 Grass so far, you may still be wondering if it is worth purchasing instead of actual grass.
Drainage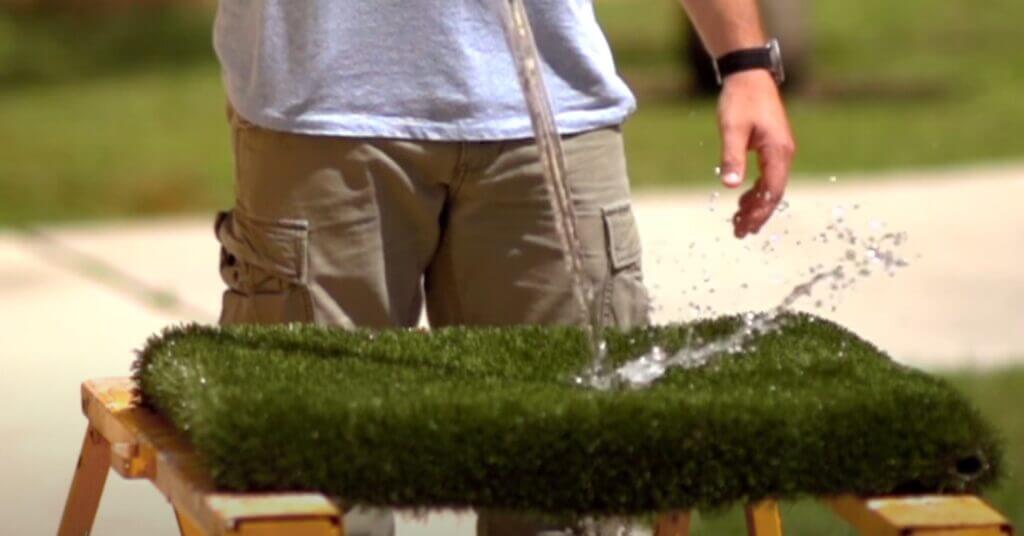 K9 Grass is specially designed to facilitate easy and rapid drainage of animal waste while natural grass is not. Thus, K9 Grass is a much cleaner option for your pets instead of natural grass.
Durability
K9 Grass is purposefully designed to withstand the pressures of constant use by people and animals.
So you do not need to worry about individual blades of grass tearing or getting damaged from use while actual grass will be damaged from frequent use.
K9 Grass vs Natural Grass for Dogs
The following three factors further exemplify the practical superiority of opting for K9 Grass instead of natural grass.
Ease of Cleaning
K9 Grass is much easier to clean due to its lack of infill material, anti-micro bacterial properties, easy drainage design, and superior quality of the material.
Urine Odor Reduction
K9 Grass has been outfitted with the necessary technologies to ensure that the smell and sight of dog waste, especially urine, is eliminated as much as possible.
Bacteria Build Up
The anti-bacterial properties of K9 Grass ensure that your pets are not exposed to any risks from bacterial infections through exposure or contact with the grass.
K9 Grass Classic vs K9 Grass Lite – Which to Buy?
K9 Grass is available in two primary varieties: Classic and Lite. As for which one you should buy it depends on one primary consideration: the weight of the material.
The difference between both varieties is essentially the weight of the material.
K9 Classic weighs 87 ounces while K9 Lite has a weight of 72 ounces.
K9 Lite is best used for areas where the desired density of the grass material is relatively low, such as an indoor setting.
While K9 Classic is best reserved for places where a higher density of the material can be considered preferable which could include any outdoor area.
Therefore, the version that you should choose is dependent entirely on where you would like to install your turf.
K9 Classic is the most suitable for outdoor locations while K9 Lite is best appropriate for indoor locations.
Conclusion
K9 Grass is a superb product for anyone who feels that their current artificial turf is simply not dog-safe enough to be practical for them.
K9 is a specifically engineered product that has been designed to overcome all of the traditional issues associated with dogs using artificial turfs such as waste accumulation, difficult drainage, difficulty with cleaning, and low durability.
K9 Grass achieves all of this through its sophisticated design, presence of anti-bacterial properties, and odor eliminators.
There are also two versions of the product, Lite, and Classic, with the primary difference between the two being their weight with the latter being much more appropriate for use in outside areas while the former is better for indoor uses.
Interested in Synthetic Turf for Dogs? Check Out These Articles:
https://turfexplorer.com/why-do-dogs-roll-in-grass/
https://turfexplorer.com/tiger-turf/
https://turfexplorer.com/how-to-clean-artificial-grass-dog-urine/
https://turfexplorer.com/is-artificial-grass-good-for-dogs/