Whether you want to have the best lawn on the block, have a friendly competition with your neighbor or starting a lawn care service, there are a lot of reasons why having lawn sprayer equipment can be beneficial.
It really doesn't take much for your lawn to be covered with invasive weeds and plants, that can dull the illustrious greenery; fertilizing and spraying your lawn with pesticide will allow it to stay fresh, keep unwanted wildflowers away and make it look beautiful.
Neglected turf not only looks unappealing but it can also be a home to a lot of critters and wildlife that strive in unkempt and unhealthy grass. It can also reduce the value of your house, since homebuyers are looking for well-kept lawns.
If you're a professional looking to maintain a lawn commercially, such as in a wedding destination, a golf course, a restaurant, etc. you need to invest in lawn sprayer equipment that keeps the grass healthy and green.
Types of Lawn Sprayer Equipment
There are many different types of Turf Sprayers available on the market; depending on the type of grass you're dealing with, the volume as well as the geographical location. 
Hand-held Hose-end Sprayers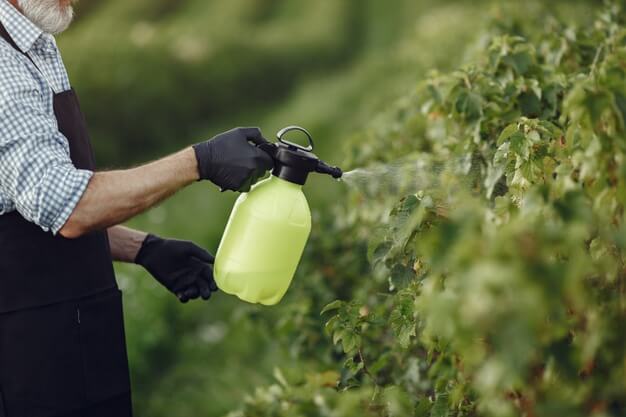 A hose attached to pressurized spraying equipment which allows you to spray your lawn conveniently and evenly. This is a great product for weed control or to feed your lawn. This is suitable for residential or smaller lawns and gardens.
Backpack Sprayers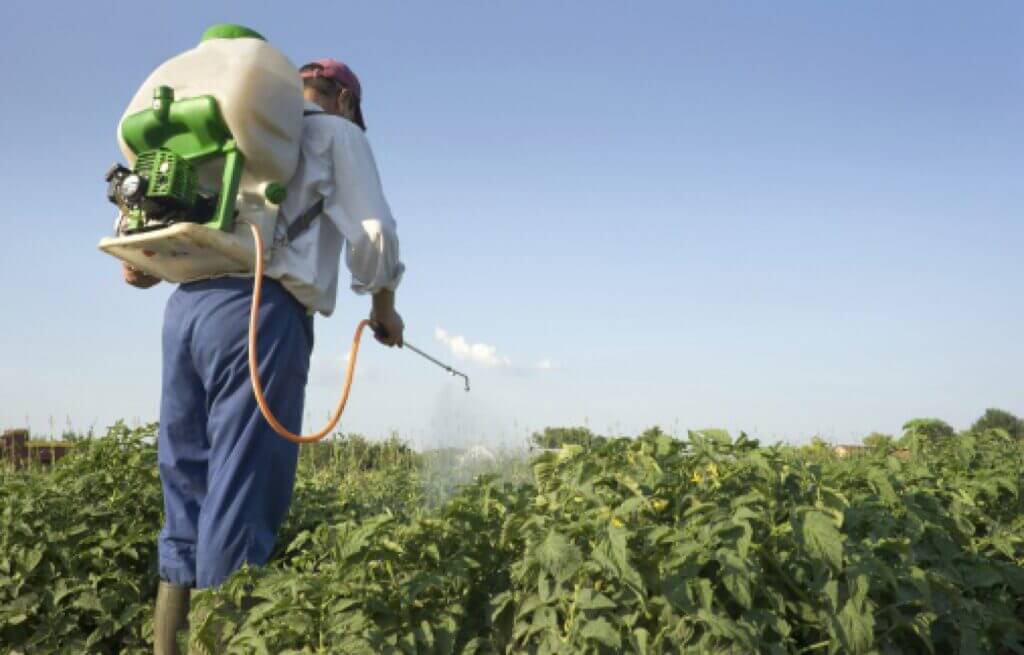 Convenient sprayers that can fit on your back; they usually come with a big tank with a wide mouth, which makes it easy for filling and changing liquids. They also have filtration systems installed onboard.
Mounting (or commercial) Sprayers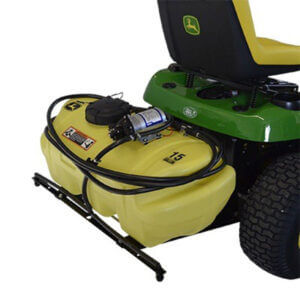 If you're looking to get a big job done, such as a golf course or a commercial lawn, mounted sprayers are required for the job. They use petrol engines and you can ride them across the lawn with many automated features onboard.
Commercial Turf Sprayers
Commercial turf sprayers are self-propelled and a single one can cover up to a one acre of land if used with dry material and up to two acres when used with liquids. They are maneuverable, they are faster than any other offering and can be used to cover golf courses, commercial lawns and more.
There are many different types of Commercial Turf Sprayers; some have a mounted mechanism while others need an operator to be walking behind it. Some have a zero turning radius while others don't. 
Commercial turf sprayers are an absolute necessity when it comes to larger volumes of grass; if you're running a commercial business or place where there is a lot of grass, you have the option between choosing more manpower or choosing faster equipment such as a mounted sprayer.
For businesses, these kind of sprayers are essential to save time and effort and get a professional finish on the lawn.
Professional Backpack Lawn Sprayers
In the Sprayer industry, there is such a thing as right and wrong tools for the job. When spraying is concerned. There are a lot of different offerings available on the market and Professional Backpack Turf Sprayers are the most conventional in small lawn and residential lawn care.
These sprayers have had a lot of technical advancements in recent years which have made these products very comfortable, convenient and efficient to use. Some models have support for your back for long-hour projects.
Other than their versatility and a large amount of applications including insecticides, fertilizers and herbicides, Backpack turf sprayers are undoubtedly the best offering for small to medium sized lawns.
There are many different options available than in the past; advanced performance capabilities, impressive comfort and a very effective spray for liquid material. Many high-pressure backpack sprayers are available with motorized pressurizers that can achieve a very fine spray for even coverage.
Handheld Lawn and Garden Sprayers
Pressurized Handheld sprayers are great tools for your lawn or garden; whether it's applying herbicides, fungicides, insecticides or fertilizer. They are a great tool if you want to maintain your lawn or garden, or to make money spraying other people's garden or lawns.
These are very versatile and have tons of applications alongside their conventional gardening use. They can be used to remove algae form garden fencing, spray garden with fresh water, can be used to clean animals and cars, sanitize your home or garage and a lot more.
Because they are so useful in so many different areas, their versatility makes them a must have tool.
You can use these sprayers to spray your house, garden, lawn or trees with pesticides for ticks, fleas, bed bugs, cockroaches and a lot more. You can save a lot of money on exterminator fees as well.
How to choose Lawn Sprayer Equipment for Your Needs
The type of Turf Sprayer you choose should be based on various factors, such as:
The condition of the soil you are spraying, the area you are covering, the manpower you have onboard, whether you are choosing a sprayer for a commercial or a residential project, whether you want to apply more than fertilizer and pesticide, the height at which you are located, frequency of rain and more. 
Generally, if you want to deal with sheer volume, you can choose commercial sprayers, which are mountable sprayers that use an engine. However, if you want to deal with something smaller such as a residential lawn or garden, you can choose handheld sprayers.
Backpack Sprayers
Backpack sprayers are connected to a hose and they are great options for most homeowners. These sprayers usually have automatic adjustment settings that dilute the chemicals and don't allow the chemicals to siphoned into the water supply.
Backpack sprayers are a great option if you want maneuverability and reachability. You can use these sprayers in your backyard and you can spray with a lot of flexibility. You can also choose to choose a backpack sprayer by pump type (piston or diaphragm).
One Hand Sprayers
The one-hand sprayer is a very versatile solution to both gardening, lawn and around the house. Because of its vast applications, it allows it to be used in various cleaning and spraying projects. After adding the correct proportions of chemicals and water, the sprayer must be pumped to pressurize it. The one-handed sprayer nozzle can be attuned; which users can adjust according to their own work.
Hand-held Canister Sprayer
Hand-held or canister sprayers come with a large canister and pump handle. You must fill the water tank with the correct ratio of chemicals and water and use the pump handle to pressurize the sprayer.
The Piston Pump can be used for various liquids such as herbicides, insecticides and more. If you want to add water with sand particles for cleaning purposes, you can do that as well. Essentially, you can add any type of chemical in the backpack sprayer which makes it very versatile.
Keep these factors in mind when you are choosing your turf Sprayers.
Pros and Cons of Commercial Turf Sprayers
Pros
The main advantage of a commercial sprayer is that it reduces the workload of the operator. Self-driving spreaders are much easier to use than manual offerings.
Since self-propelled Sprayers do not rely on the operator to push them, they can run faster and cover more areas every day.
In the event of a special event, you can reduce labor costs, complete work faster and shorten the time taken in case of deadlines.
Although the cost of commercial spreaders is high, you can compensate for the cost with increased efficiency.
You can cover up to one acre of dry material and 2 acres of liquid material with certain Commercial sprayers
Cons
Mobility is limited, since a mounting vehicle has a turning radius
The Self-propelled Sprayers are larger than non-powered sprayers, so they will be difficult to maneuver at close distances often found in ground maintenance work. 
The operating mode required for self-propelled machines may differ from unpowered walk-behind spreaders.
You need to haul self-propelled sprayers
They are expensive
Pros and Cons of Backpack Lawn Sprayers
Pros
Versatility – Both backpack sprayers and hand-held sprayers are efficient, reliable and durable, while providing reliable performance. 
Powered and pressurized –  The battery-powered Backpack sprayer uses a 12-volt battery power supply to power the pump. Since the energy transfer is continuous and the spraying machine is automatic, work and time can be saved. 
Convenience – these sprayers can be used continuously for several hours on a single charge, thus making it easier to complete long-term tasks, such as spraying fertilizers or pesticides in nurseries and greenhouses, or spraying herbicides, pesticides and other types on turf gardens and small trees Fungicide. Battery-powered backpack sprayers are also ideal for spraying large lawns, fruit trees, etc.
High Power – High-pressure backpack sprayers can also be used in higher altitudes
Less expensive than commercial offerings
Cons
Not suitable for higher volume of grass
If battery-powered option is chosen, you might need multiple charges for a medium sized lawn
Might not be suitable for certain chemicals
Heavy to lug around when tank is full
Pros and Cons of Handheld Lawn and Garden Sprayers
Pros
Economical as compared to backpack and commercial sprayers – Often times, garden sprayers are pump-actioned so the price is much less as compared to other offerings
Effective for outdoor spaces, especially small lawns and gardens – convenient to carry outside and even in doors
Versatile and can be used for various projects – cleaning, insecticides, pesticides, watering, spraying and more
Simple and effective to use – just point and press the trigger to work
Amazing efficiency for cleaning and sanitizing
Great for occasional use
Cons
Relatively slow as compared to other offerings
Hard to maintain a decent pressure at times
Cannot be used commercial pesticide applications
Conclusion
There is no doubt that if you want to maintain a healthy and green lawn with little weeds, you need to have a good Sprayer on hand. While it is not necessary that you get a commercial sprayer for your small sized lawn, you might want to consider getting something that not only fits the budget but also the requirement.
For larger projects, commercial Sprayers are much more suitable, for medium sized projects, you would be better off with a backpack sprayer and for smaller lawns and gardens, you might want to get a handheld sprayer.
It all depends on your use case, requirements and expected end-results.